Tina McKenzie selected as NI21's European election candidate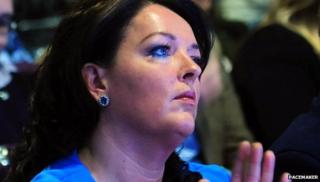 The chairperson of one of Northern Ireland newest parties is to stand in the European elections.
Tina McKenzie, a senior executive and mother-of-three, will represent NI21 in the May elections.
The daughter of a former IRA man from west Belfast, she is a founding member of the party, and has said she differed from her father's politics.
NI21 was set up by MLAs Basil McCrea and John McCallister, after they quit the Ulster Unionist Party in 2013.
Ms McKenzie said she was drawn to NI21 to build an alternative to sectarianism and division.
She said she wanted to bring a message of a united 21st century Northern Ireland to the heart of Europe and break down perceptions that the region only exists as "them and us".
"As a mum of three I am passionate about building a better future for Northern Ireland," she said.
"As a party we are offering the electorate something new, a move away from the tired, tribal, and ineffective politics to a place where we can confidently stand up and be proud to say together we are from Northern Ireland."
She said she also wanted to focus on jobs and economic growth.
Ms McKenzie promised her party would represent everyone equally with the same levels of commitment and enthusiasm.
As a senior director in the human resources services industry, Ms McKenzie said she had had extensive experience of working in Europe.
NI21 is pro-Europe, insisting Northern Ireland and the UK must remain within a reforming EU, promoting the benefits of the single market.