Antrim Area Hospital: Memo after tube inserted in wrong patient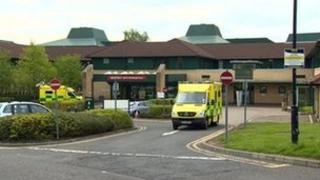 A memo has been sent out to staff in the Northern Health Trust after a plastic tube was inserted into the wrong patient at Antrim Area Hospital.
The tube was inserted through the nose, throat and stomach, before staff realised they had the wrong person.
Staff have been reminded to positively identify patients before they are removed from a ward for treatment.
The trust said the memo was an indication of how it was attempting to prevent mistakes from happening again.
The memo, seen by the BBC, was sent last week to all radiographers, radiography assistants and x-ray porters.
It advised staff that following the "serious adverse incident", porters must ensure that a nurse signs out the correct patient before they are allowed to leave the ward.
It also advises that after 17:00 BST, a radiographer must positively identify the patient before any interventional procedure is performed.
In a statement, the Northern Health Trust said that it wished to promote an open and honest culture with patients and their families.
A spokesperson said the memo was a good example of how the trust had recognised a mistake and wanted to prevent it from happening again.