Row over 'racist' posters in Belfast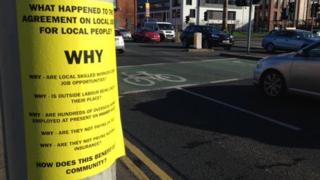 A row has erupted over posters in Belfast that claim NI people are being denied jobs while hundreds of overseas workers are receiving higher wages.
UKIP said the posters reflected community frustration at more than 500 foreign workers being employed on an oil rig contract at Harland and Wolff.
However, the Alliance Party has condemned them as racist.
The BBC has contacted Harland and Wolff, but, as yet, there has been no comment.
The black and yellow posters in south and east Belfast do not mention the shipyard, or, who is behind the posters.
However, UKIP's David McNarry said they reflected resentment about skilled Northern Ireland workers being denied job opportunities at Harland and Wolff shipyard.
He said he knew who was behind the posters.
"It's a reaction, nothing but a reaction as to what they think is happening to workers; men losing jobs, men not being offered jobs in east Belfast where the shipyard was born and bred," he said.
Anna Lo of the Alliance Party said the posters were giving out misinformation, at a time, when ethnic communities are already concerned about racist attacks.
"I'm absolutely outraged," she said.
"I think this is ridiculous putting up these unsubstantiated lies, accusations of immigrants coming into Northern Ireland, particularly at a time when we have seen recent racist incidents in south and east Belfast."