Stewart and Brian Hood lose Freemason court challenge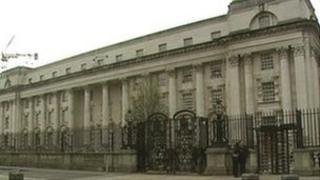 A father and son suspended from the Freemasons have lost a legal challenge against the organisation.
Stewart Hood, 67, and his son Brian, 48, from Randalstown, had tried to sue after they were suspended from their lodge in Antrim.
It followed a row over a disputed proposal to sell its Northern Ireland headquarters in Belfast.
They had claimed disciplinary rules were not properly followed.
The Hoods were suspended in 2009 on a charge of "unmasonic conduct".
They were alleged to have made discourteous and disparaging remarks against senior members within their area.
As the father and son sought a ruling which could see them reinstated at their lodge in Templepatrick, procedures adopted by the organisation were set out in court.
'Gagged'
They argued that rather than going to the Dublin-based Grand Lodge of Masons in Ireland, the matter should have been dealt with at provincial level in Antrim.
Brian Hood, who brought the case along with his father, claimed in court he was "effectively gagged" after forming part of a retention team that put forward an alternative to selling the Masonic hall in central Belfast.
The building, on Rosemary Street, features a mural by renowned Irish artist John Luke.
Brian Hood told the court he had been a member of the Masons from the age of 21, drawing "great comradeship" from an order that would provide security for his family in the event of any illness or death.
He claimed, however, that a dispute then developed between the retention team and others in the Provincial Grand Lodge of Antrim.
It was allegedly based on a board of general purpose deciding to endorse the alternative to selling off the Rosemary Street headquarters.
'Perception of bias'
Seven Provincial Grand Lodge officials were involved in the "unmasonic conduct" charge.
In his ruling, Mr Justice Weatherup accepted there had been deviation from the organisation's laws.
But he said it was faced with a dilemma because normal procedures would have meant the investigation against the Hoods being overseen by the same officials who made the complaint against them.
"There would have been grounds for a complaint of procedural fairness and there would have been a perception of bias," the judge held.
"In effect there was a civil war in the province (Antrim) and it was prudent to do so in the circumstances."
All other grounds of challenge were also rejected.
Mr Justice Weatherup told the High Court: "I'm not satisfied that the plaintiffs have established any breach of contract and I find for the defendants."
In a statement, the Grand Lodge of Freemasons of Ireland said: "The Grand Lodge of Freemasons of Ireland welcome the judge's decision today.
"We regret that former members felt the need to pursue the matter in this way and now wish to move forward in a positive manner.
"We feel it would be inappropriate to make any further comment at this time."