Northern Ireland shopping centres go on market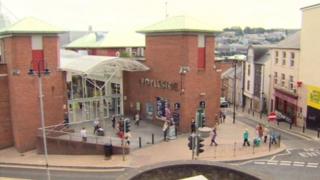 Some of Northern Ireland's best known shopping centres are reportedly for sale in a deal that could be worth up to £750m.
Foyleside in Londonderry, Forestside in south Belfast and the Abbey Centre in Newtownabbey are all on the market, according to Property Week magazine.
The shopping centres are part of a bigger portfolio held by two firms, Foyleside Ltd and Abbey Centre Ltd.
The portfolio was assembled using substantial loans from Ulster Bank.
The two firms are understood to be controlled by two of Northern Ireland's wealthiest men -former UTV chairman John B McGuckian and Ken Cheevers, who owns the McLaughlin & Harvey building firm.
The biggest single loan of the portfolio relates to the £360m purchase of the Fosse Shopping Park in Leicester.
It dates back to 2006 and at the time Ulster Bank said it was the largest single retail property purchase in the UK since the early 1990s.
The other properties involved are the Marshes Centre in Dundalk, County Louth, Palace Exchange in Enfield, greater London, the Avenue shopping centre in Newton Mearns, Glasgow, and Priory Meadow in Hastings, East Sussex.
In recent years there have been unsuccessful attempts to sell Fosse Park and Priory Meadow.
Property Week also reports that the potential sale is being run alongside an attempt by the owners to refinance some of the portfolio, including Foyleside and Forestside.
That would likely involve forming a partnership with other investors.
The sales process fits with Ulster Bank's strategy of reducing the size of its property loan book.