Concentrix to create around 1,000 new jobs in Belfast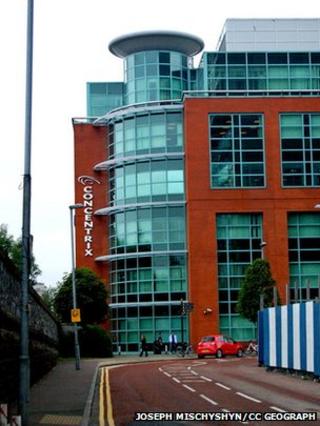 US company Concentrix is to create around 1,000 new jobs in Belfast.
The company, which currently employs 800 people at three Belfast locations, is investing £36m.
The firm set up in Northern Ireland in 2011 after buying the locally-owned call centre Gem. The bulk of the firm's work is call centre operations.
First Minister Peter Robinson, who made the announcement on Thursday, described it as "excellent news for Northern Ireland".
Speaking at Concentrix's headquarters at Lanyon Place, he said: "This major investment is a tremendous boost for our local economy and is further evidence that Northern Ireland remains one of the most competitive countries in Europe for inward investors seeking talented people in a cost-competitive location."
"The decision by Concentrix to reinvest in Northern Ireland sends a clear and strong signal to other potential investors that Northern Ireland remains a great place to work, live and invest."
Deputy First Minister Martin McGuinness said: "This is an unprecedented jobs announcement by Concentrix creating over 1,000 jobs and contributing over £18m a year in wages and salaries to the local economy."
'Valuable opportunities'
Enterprise Minister Arlene Foster said the investment was the "biggest-ever job creation" project supported by Invest NI .
"Investments such as this provide valuable job opportunities for a variety of people, particularly those returning to work, those who have experienced a period of unemployment and young people," she said.
"The company considered a number of other locations before choosing Belfast."
Concentrix provides business support services to government organisations and large organisations, such as Microsoft and Amazon.
The company is recruiting not just customer care telephone staff, but also software developers.
The posts will pay an average of £15,000 - that is below the private sector average.
Vice President Philip Cassidy said the jobs offered good prospects in the current economic climate.
"The career prospects have been very good for people within the business," he said.
"There are people that have come in at a relatively low level within the business and have moved through the ranks through to senior management positions and we would encourage that."
The project is the biggest ever backed by Invest NI in terms of a single jobs announcement.
It is giving Concentrix £3.5m in grant aid.
Earlier this week the company was linked to the purchase of the former Maysfield Leisure Centre in Belfast city centre.
Neither the company nor the council has yet commented.