Irish state visit: Reflections of a London cabbie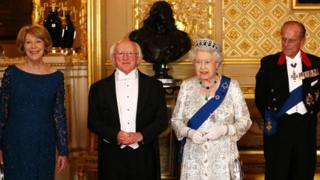 It was a chatty London cabbie who picked me up at my hotel.
He asked what I was doing in the city. When I told him I was part of the BBC Northern Ireland team, covering the UK state visit of Irish President Michael D Higgins, we got talking.
The taxi driver was English born and bred but in the early 1970s a member of his wider family had married a Belfast man.
The marriage had brought a new raft of relatives into his life, "characters" he called them, whose company he had enjoyed.
Prison visitor
He was a child as the Troubles in Northern Ireland intensified.
"I never understood it," the taxi driver said. "Here we just got on with life."
An 'uncle' from Belfast called to his home from time to time. The young boy admired a varnished matchstick box he'd brought and the uncle promised to bring him one the next time he "went away".
"I thought he was in the Merchant Navy," my cabbie said.
"It was only when I was much older, that I realised he'd spent time in Long Kesh."
Long Kesh is the name often used by republicans to refer to the Maze prison, the jail used to house paramilitary prisoners in Northern Ireland from 1971 to 2000.
Kneecapped
The taxi driver's Belfast relatives suffered at the hands of the IRA too.
A 'cousin' of the same age who he had been friendly with and who, at one stage, had the chance of a career as a professional footballer was kneecapped by republicans.
"That finished that dream," the cabbie said.
My driver had been glad to see the visit of the Irish president to the UK and welcomed the improving relationship between the two countries.
Customers in his cab had been talking about it all week.
He did not profess to understand the politics but said he just wanted people to "get on" and that it was time for people to "move on".
'Big ask'
I told him that while at Windsor Castle I had met a former Irish Guard who had been blown up by republicans at Chelsea Barracks in 1981.
The cabbie accepted that it was "a big ask" of people who had been directly affected by the violence to move on and he wondered what the answer was.
He was glad much of the violence in Northern Ireland was over, although he said he had never been to visit. I told him Belfast was a great place for a weekend break.
We parted with a warm handshake and a promise from him to give the city a chance.