Anger as tyres piled for July 'Eleventh Night' bonfire in April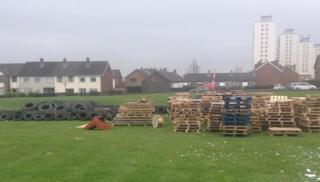 Residents of a housing estate have complained about material being piled up three months before a July bonfire.
Hundreds of tyres and wooden pallets have been collected and left at a field at Rathcoole in Newtownabbey.
One local pensioner told the BBC's Nolan Show: "It's not even Easter and they've started building their bonfire for July - it's out of order.
"The council has to come out to lift it and put signs up saying that you're not allowed to have tyres on the bonfire."
Bonfires are lit in many unionist areas across Northern Ireland on the night of 11 July, as part of the annual Battle of the Boyne commemorations.
Protocol
The woman, who did not want to be named, said she was afraid to speak out because "you'd get your windows put in".
"All those houses facing the field have to be boarded up," she said.
"It's not right for people who pay their rates to have that outside their front doors."
Community worker Phil Hamilton said he had spoken to some of those involved with the bonfire.
"Collectors were finding it hard to get material so what they did was store it elsewhere - they'd then get letters from the Housing Executive to tell them it had to be moved," he said.
"The bonfire protocol within Newtownabbey allows people to collect in the second week of May.
"We must take some positives out of this as well, rather than putting it in a negative way as the bonfire collections are engaging with statutory agencies, the council and the Housing Executive."
He added: "That woman says the bonfire shouldn't be there - the bonfire has been there for more than 15 years."
Alliance Party councillor Billy Webb said there was a bonfire safety protocol within Newtownabbey Borough Council, but those involved in this one had not signed up to it.
"There are six other sites within Newtownabbey that will be part of the protocol, and we're not having the problems on those sites that we are having in Rathcoole," he said.
"This is not about saying there shouldn't be bonfires, but those who are involved in it should show some responsibility."
Newtownabbey Borough Council said that under its protocol, "bonfire sites agree not to collect material before mid-May and not to burn tyres or other inappropriate materials on their sites.
"The Foyle Hill site in Rathcoole, which is on Housing Executive land, has not signed up to the bonfire protocol for 2014."
A Housing Executive spokesperson said it had been liaising with local representatives.
"The material had been stored in individual gardens and we did write out to tenants requesting that the material be removed because of health and safety reasons.
"The material has since been removed from those gardens and we are now working with the local community to resolve the issue.
"We are only able to remove bonfire material with the support of the local community."
A spokesperson for the Department of Environment said materials typically used on bonfires were controlled waste, and enforcement action would be taken when evidence is found on a business not properly disposing of this.
"Obtaining prosecutions for such cases is often difficult.
"In the majority of cases the necessary evidence can realistically only be obtained by local residents, who would be understandably be reluctant to provide statements in court. "
The Police Service of Northern Ireland said that the physical removal of bonfires was not a matter for its officers, but "we understand we have a role to play and will assist other statutory bodies carry out their duties if called upon to do so".