Police fear UDA trouble in Carrickfergus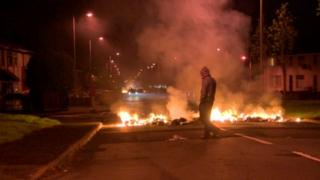 A senior policeman has said loyalist paramilitaries planned riots and attacks on officers in Carrickfergus, County Antrim, on Friday night.
ACC Will Kerr said police had "credible intelligence" that a faction of the Ulster Defence Association intended to "orchestrate serious disorder".
He said the south east Antrim UDA intended to "bring young people out onto the streets" to attack police.
On Friday night, after a police appeal, the area was reported to be calm.
However, on Thursday, up to 50 masked men were involved in three hours of disorder in Carrickfergus.
A van was hijacked and set on fire in the Woodburn estate and ACC Kerr said the masked men were "gathering petrol bombs" and "blocking roads" with barricades of burning rubbish.
'Criminal godfathers'
The PSNI's Carrickfergus warning came less than a fortnight after police blamed the south east Antrim UDA for orchestrating a "rampage" in Larne, County Antrim.
A crowd of up to 100 loyalists attacked people and property in the town on 30 March.
The Democratic Unionist Party (DUP) said the Carrickfergus trouble was linked to loyalist anger over the Larne police investigation.
Speaking on Friday evening, ACC Kerr said it was an unusual move for PSNI officers to discuss intelligence in advance of a police operation.
He explained they had taken the decision so they could appeal to the parents of young people in the Carrickfergus area, to stop their children getting involved in disorder.
The MP for East Antrim, Sammy Wilson, also expressed his fears about the potential for "civil disorder" in Carrickfergus on Friday night.
"This is the last thing the town needs," Mr Wilson said.
"The cynical use of young people by the criminal godfathers, who are angry that the police have dared to arrest people suspected of being involved in the disorder in Larne two weeks ago, is disgraceful."
'Control'
The DUP representative appealed to "those who call themselves loyalists and claim to want the best for Northern Ireland to rethink their destructive plans".
ACC Kerr told BBC Radio Ulster's Evening Extra programme that the south east Antrim UDA was bringing young people out to "wreck their own communities".
He said the police have "put a lot of extra resources into the Carrickfergus area over the course of the weekend to deal with any potential disorder".
"When riots happen, there is no nice and easy way to police a riot. People get hurt in riots, property gets damaged, communities get wrecked," ACC Kerr said.
"There will be a consequence for people who engage in this behaviour," he added.
He warned that anyone who became involved in rioting would risk "a criminal conviction and possibly a jail sentence, that will stay with them for a lifetime".
'Parasites'
The officer agreed with a statement that the south east Antrim UDA appeared to believe it was "in control" of the area, but added that police would "disabuse" the paramilitary group of that belief.
He told the programme that the PSNI has been actively investigating the Larne "rampage" that took place at the end of last month.
A crowd of up to 100 loyalists, many of them masked, attacked police, residents, homes and cars in Ferris Avenue and Knockdhu Park on the evening of Sunday 30 March.
At the time, police said many of the loyalists had gathered in Carrickfergus before going to Larne to take part in the attacks.
'Machetes'
ACC Kerr said 16 people have been arrested and more than 40 premises have been searched in connection with the disorder over the course of the past fortnight.
"We seized nearly 800 items in the last two weeks, including imitation firearms, machetes, drugs and a range of other items.
"We'll continue to do that because these groups, particularly and including the south east Antrim UDA, act as parasites on this community.
"We will not, on behalf of the vast majority of decent people who live in Carrickfergus, allow them to get away with it," ACC Kerr added.