Heroin 'cause of two Belfast deaths' court is told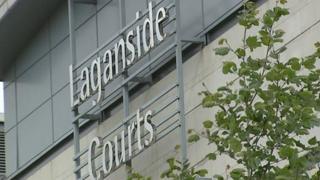 Police believe heroin was the cause of two people's deaths in Belfast in recent months, a court has been told.
The statement was made by a police officer during a bail hearing for 40-year-old south Belfast man Kevin Gerard McCrory.
Mr McCrory, of Pretoria Street, is charged with possession, intent to supply and unlawfully supplying heroin on 18 February 2014.
He is also charged with acquiring criminal property - £50 cash.
It is understood that relates to the sale of a Class A drug to an undercover police officer on the same date.
At Belfast Magistrates Court on Saturday, police agreed with a defence solicitor's claim that the drug activities alleged against Mr McCrory are "at the bottom of the food chain".
The officer also said seven other people have been arrested as part of the an undercover operation targeting the illicit drugs trade in the Belfast area.
Mr McCrory, who has 172 previous convictions, 12 of them drugs related, was remanded in custody and is due to appear in court again by videolink on 9 May.