Arlene Foster wants more Northern Ireland direct flights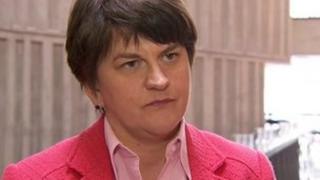 Tourism Minister Arlene Foster has said she hopes flights between Belfast and Canada may resume in the near future.
Speaking on the BBC's Sunday Politics, she said her department had been working on building up an events strategy.
However, she said more direct flights into Northern Ireland were needed.
"The Giro d'Italia is coming very soon, we have the Circuit of Ireland rally happening next weekend, we have the North West 200 happening," she said.
"We've really been concentrating on bringing large scale events to Northern Ireland.
"I'm delighted that the Irish Open is coming back to Northern Ireland next year, with Royal County Down in 2015 and the Lough Erne Golf Resort in 2017, so we have been spending a lot of time building up our events strategy over this last period of time, but of course we need direct flights in.
"It's why I spend a lot of time when I go out on trade missions also talking to the tourism sector and indeed I will again be pushing the number one priority in that respect and that is Canada.
"We believe very strongly there should be a Canadian link again - there hasn't been for some time and it's one that I am very strongly of the view that we'll be able to see over the line in the next period of time."
Direct flights from Belfast to Toronto stopped in 2008 when Canadian airline Zoom went bankrupt.
You can catch up on Sunday Politics on the BBC Iplayer.