IrishTV: Satellite channel to creates 30 jobs in Northern Ireland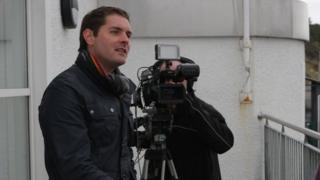 A satellite television station is creating 150 jobs across the island of Ireland, 30 of which will be based in Northern Ireland.
IrishTV, based in County Mayo in the Republic of Ireland, is set to begin broadcasting 24 hours day to audiences in Ireland, the UK, Europe and the US.
Twelve of the posts will be created at its Northern Ireland headquarters in Donaghmore, County Tyrone.
The firm will also recruit three staff in each of Ireland's 32 counties.
As part of the 15m euros (£12.4m) expansion, every county will have its own weekly 30-minute programme called County Matters, to showcase local issues.
'New platform'
IrishTV's operation in Northern Ireland will be managed by the singer and TV presenter Malachi Cush, who is from Donaghmore.
He rose to prominence through the first series of the BBC talent show, Fame Academy, in 2002.
Mr Cush said: "IrishTV is going to provide an exciting new platform on which to profile all that is good about visiting, living and working in Northern Ireland and through the County Matters shows, the six counties of the north will have the opportunity to showcase themselves to a global audience."
The TV company was founded by County Mayo entrepreneurs, Pierce O'Reilly and Mairead Ní Mhaoilchiaráin.
The firm is backed by one of Ireland's richest men, the Mayo-born multi-millionaire, John Griffin.
'Irish diaspora'
Mr Griffin is believed to be the 37th most wealthy person in Ireland and recently sold the UK's largest minicab service, Addison Lee, for 360m euros (£298m).
Mr O'Reilly, who is the TV firm's chief executive said: "Securing the deals both with Sky in the UK and Europe and PBS in the US has enabled us to potentially capture a large portion of the Irish diaspora - people who will now be closer to home than ever.
He added: "Through the launch of this new channel we will be supporting local communities and businesses showcase their produce to both local and international audiences, and, importantly, helping local firms achieve their full export potential."
Thirty-four of the 150 new jobs will be based at IrishTV headquarters in Westport, County Mayo.
Ten people will be employed across three UK offices in Manchester, Liverpool and London and five of the posts will be based in IrishTV's first US base in Cleveland, Ohio.