Belfast's Obel building sells for 'significantly more' than £20m guide price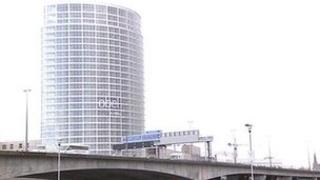 Ireland's tallest building - the Obel in Belfast - has been sold to an undisclosed buyer for "significantly more" than its £20m guide price.
The Donegall Quay development, which contains offices and 280 apartments, had been on the market for one month.
The complex was effectively repossessed in November 2012 as the developers Donegall Quay Limited owed Bank of Scotland almost £48m.
The identity of the buyer is being kept confidential.
"We expected the Obel to generate significant interest and that is exactly what transpired," said Ben Turtle of Savills, the property consultants who handled the sale.
"It has taken just over a month for the sale to complete, which highlights the growing popularity of Belfast and Northern Ireland as a location for property investment."
The 28-storey Obel was first launched onto the market in 2005 and dozens of apartments were sold off-plan, mainly to buy-to-let investors.
However, as the property market crashed sales slowed and many of the apartments are still empty.
Most of the office block is let to the international law firm Allen & Overy.