Replica of cross installed at Down Cathedral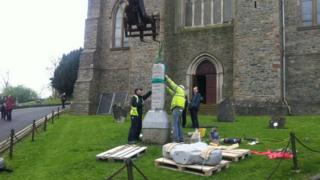 An exact replica of the iconic Downpatrick High Cross, weighing about one tonne, is being installed in front of Down Cathedral in time for Easter.
The original cross, which is 1,100 years old, was removed in December to be preserved as the centrepiece of a display in Down County Museum.
The replica was made by a County Down stonemasons, using computer technology to make a copy of the original.
The granite used was blasted from Thomas Mountain in the Mournes.
The head of the cross shows the Crucifixion of Christ, flanked by the spear-bearer, sponge-bearer and the two thieves, who were given their own names in Irish in the 8th century.
The interlace on the side is made up of intertwined snakes, symbols of resurrection as they slough their skin and are reborn.