Needle exchange scheme numbers rise 50% in four years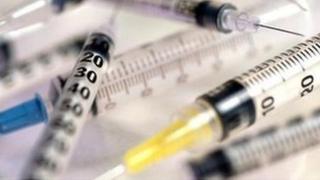 The number of needles issued by an exchange scheme in Northern Ireland has risen by more than 50% in the past four years.
The Public Health Agency (PHA) coordinated project gives out needles and syringes to people who are injecting intravenous drugs, such as heroin or steroids.
In 2012, 21,220 visits were made to the scheme with 213,295 needles handed out.
The scheme has been in operation since 2005.
Its purpose is to prevent the spread of blood borne viruses such as HIV and Hepatitis C.
The number of people accessing the service has increased. In 2008/09, 13,389 visits were made with 135,700 needles issued.
Gyms
Last year, the PHA introduced specific steroid needle and syringe packs in order to provide users with more suitable equipment.
The latest figures show that 27% of all needles were provided to steroid users.
That number could be higher, as only half of all those visiting the service provide information on what they are using the needles for.
Owen O'Neill, from the PHA, said needles were being provided to some people through gyms in Northern Ireland.
"It happens in certain areas in Northern Ireland at present, particularly with regard to the outreach services, some of those services have built contacts with some of the local gyms and have started ensuring that those gyms can get access to needles," he said.
'Discreet service'
"The packs are brought directly to the gyms from the outreach service. So the outreach service gets the packs from the pharmacist, gives them to the people who run the gyms, then they distribute them to their colleagues.
"Obviously it still is very underground, it's a discreet service, we find that's the best way to promote it.
"It costs approximately £22,000 for a 12-week treatment for Hepatitis C, so our scheme actually costs the treatment of 10 people who would be receiving treatment for Hepatitis C in any one year.
"It's a very, very effective use of money in terms of preventing Hepatitis C and HIV and other blood borne viruses."
Steven Millar is a former steroid user who now works as a counsellor at the Forum for Action on Substance Abuse.
He stopped taking performance enhancing drugs after ending up with blood poisoning.
'Dangers'
He is in favour of plans by the PHA to expand the needle exchange service.
"At the time I wasn't aware of any dangers at all. I just thought, it was take the drug and you were okay, and you just carried on doing what you were doing. It did nearly kill me in the end," he said.
McGregor's Pharmacy on Belfast's Botanic Avenue is one of the pharmacy's operating the scheme.
Pharmacist Richard Addie said the service was getting more popular with about 20 people coming in on a busy day.
"It's a good thing because people know to get their clean needles from us. On the negative side people seem to be a bit blasé about the health risks that injecting steroids can pose," he said.
"The benefits are that people are healthier and safer from using the exchange.
"I don't think there's any drawbacks apart from the fact that I've seen people come in and I do feel that steroid use, in particular, is probably a growing problem in Northern Ireland."