Game of Thrones: Irish designers prove cutting edge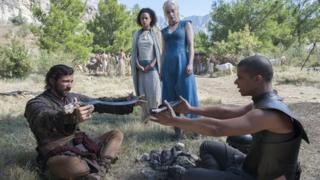 When it comes to intricate and beautiful swords, Irish designers and crafts people are cutting edge.
The sword Jaime Lannister wielded in the first episode of the new series of TV drama Game of Thrones was sculpted by Northern Ireland designer Graham Barrow.
And it was cast in bronze by artisans in a foundry in north Dublin.
Intricate, delicate and beautiful - each individual item is a work of art.
Game of Thrones series has already showcased the natural beauty of Northern Ireland, from the deep dark caves on the Antrim coast to the rocky drama of the Mourne mountains, and it is also mining a rich seam of creative and artistic talent across Ireland.
HBO, the makers of the popular fantasy drama ,have uncovered an army of talented crafts people.
Among them is Barrow from Killyleagh, County Down. He is better known for his interior design work in hotels and clubs across Ireland.
But he also plays a creative role in the Game of Thrones series. He has sculpted some of the sword handles used by leading characters in the series.
He fashions them in Milliput, a resin-like substance and passes them to the Bronze Art Fine Foundry in Dublin, who take over the work.
The foundry in conjunction with Game of Thrones weapons master Tommy Dunne have helped fashion the Longclaw sword used by Jon Snow, Jaime Lannister's sword from season four and the knife and sickle, complete with distinctive reclining naked woman used by the character Daario Naharis.
David O'Brien from Bronze Art Fine Art Foundry, Ireland, said it was responsible for six items featured in the Game of Thrones series so far.
The foundry is just one of a long chain of artisans who are involved with the cult series that is partly filmed in Ireland.
"I was involved in model making and special effects for film and I worked on King Arthur in 2003," Mr O'Brien said.
"We also worked on the BBC Camelot series. People have been noticing what we do and it has been very much word of mouth. The chief armourer and weapons master on the Game of Thrones series Tommy Dunne got in contact with us and we worked from there.
"Tommy, from County Wicklow, has also been responsible for the sculpting and fitting out of several other swords from the very beginning of the series. He designs all the weapons, belts and scabbards and has a team of in-house model makers who work with him. "
Mr O'Brien said Graham Barrow was "a very talented sculptor" working alongside the Dublin foundry.
"First we do a rubber mould and then a wax copy to ensure it is like the original. Then we cast it in bronze, making it hollow for the actual blade to fit in."
The blades are supplied by Mr Dunne.
"There are many hands that make the different parts, from the blacksmiths that forge the Damascus Steel blades to the costume artists that design and make the scabbards. We are just happy to have a small part to play in such a worldwide phenomenon," he said.
"Mr Dunne has made a concerted effort to try and keep all the work on Game of Thrones on the island of Ireland to promote Irish crafts people."
The Bronze Art fine art foundry have made weapons for every season of Game of Thrones, except the first.
David O'Brien believes that there could be as much 10,000 euro (£8,242) in the production of some of these swords between the cost of materials and the craftsmanship of the many people that work on them.
The Bronze Fine Art foundry has also made weapons for the first two series of Vikings and a new Dracula movie due to open next year which was filmed in Nothern Ireland. Graham Barrow also sculpted Dracula's sword for that film.