Arsonists attack Dunanny Centre in Rathcoole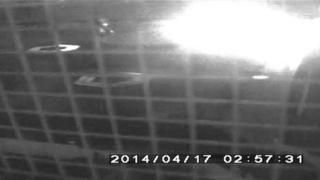 A community centre in Newtownabbey is set to be out of operation for days or possibly weeks after being attacked by arsonists.
The Dunanny Centre, at Rathmullan Drive in the Rathcoole estate, was targeted at about 03:00 BST on Thursday.
The building's gas and water supply were destroyed in the attack.
CCTV footage shows three men tearing slats from the back doors of the complex and pouring fuel into the boiler room.
There is then a bright flash as the fuel is set alight. The attack has caused thousands of pounds worth of damage.
Firefighters were able to put the blaze out 20 minutes after it started - with flames licking around pipes filled with gas, the damage could been much worse.
Centre manager Vicky Moore said she could not understand why they had been targeted.
"We have absolutely no idea, we don't know," she said.
"This is a churches' organisation, we're a centre that relies very much on the support of the community and the community relies very much on the services that we provide."
Police are investigating and have appealed for witnesses.