Independent MLA David McClarty dies after illness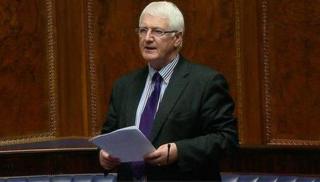 The independent unionist Northern Ireland Assembly member David McClarty has died after an illness.
The 63-year-old from Coleraine had been suffering from cancer for some time.
The East Londonderry MLA left the Ulster Unionist Party in 2011 after being deselected as a candidate for that year's assembly election.
Before leaving the party, he was one of the UUP's longest serving MLAs. He was first elected to Coleraine Council in 1989 and the assembly in 1998.
He was one of the assembly's deputy speakers from 2007 to 2011.
'Popular'
Ulster Unionist Party leader Mike Nesbitt said: "David was probably the most popular MLA in Stormont, a man whose company I always enjoyed.
"He was always a positive, progressive thinker and I am sorry that I didn't get the opportunity to work with him as a party colleague in the Ulster Unionist assembly group."
Ulster Unionist Party chairman Lord Empey said Mr McClarty was "a real gentleman in politics".
"He managed to combine sincere beliefs with a great sense of humour and was slow to make political enemies, which says a lot about him," he said.
"He was always willing to put his views forward in a fearless manner, but did so in a way that did not add hurt or injury to many inflamed situations."
First Minister Peter Robinson said Mr McClarty was a "highly respected" member of the assembly and would be "greatly missed".
"He was one of our longest serving MLAs and worked tirelessly to help all of those he served. He was a man of great decency, honour and integrity," said the DUP leader.
Deputy First Minister Martin McGuinness said Mr McClarty was a "very progressive politician who developed positive relationships with everyone he met".
"He was the deputy speaker between 2007 and 2011; a role he carried out with distinction. David was a gentleman who was greatly respected by all," said the Sinn Féin MLA.
DUP East Londonderry MP Gregory Campbell said: "David was a popular, affable person who nearly everyone in the Coleraine area knew and liked.
'Gentleman'
"It's a very sad loss to politics and to the north coast."
SDLP East Londonderry MLA John Dallat said Mr McClarty was "respected by everyone".
"He could communicate with every political party, and he has left a legacy that we will cherish for many years to come," he said.
Alliance Party leader David Ford said his election as an independent candidate "showed how popular he was locally".
"He was a very well-liked politician who worked tirelessly on behalf of his constituents," he said.
TUV leader Jim Allister described Mr McClarty as "one of the gentlemen of politics, but no pushover".
"He stood up for what he believed in and, though our politics differed in emphasis, we shared a mutual respect and some common causes," he said.
Green Party leader Steven Agnew MLA said his "presence in the assembly will be greatly missed".
"David has the rare distinction of being held in high regard among members of all parties within the assembly," he said.
Basil McCrea MLA, leader of NI21, described him as a "model politician" and a "really good man".
"He was in frontline politics for 25 years, but always remained down to earth, good humoured and passionate about representing the people of East Londonderry and Coleraine. In the cynical and very divisive worlds of politics this was a rarity," he said.