Tommy Crossan: Dissident republican shot dead in west Belfast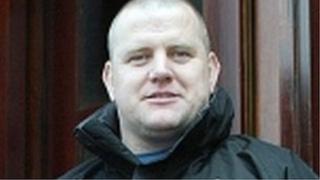 A prominent dissident republican has been shot dead in west Belfast.
Tommy Crossan was shot at a fuel depot off the Springfield Road. It is understood he was shot several times.
Mr Crossan, 43, was once a senior figure in the Continuity IRA. It is believed he had been expelled from the group some years ago after falling out with other dissidents.
It is also understood that he had been informed that threats had been made against his life.
Detectives are examining the possibility that dissidents were involved in the murder.
Alex Attwood, West Belfast MLA for the nationalist Social Democratic and Labour Party (SDLP), said three gunmen carried out the killing.
Last rites
The shooting has been condemned by Northern Ireland Secretary of State Theresa Villiers and local politicians.
It happened just after 17:00 BST on Friday when the area was busy with people. A local priest gave the last rites.
A red BMW car was later found on fire at Beechmount Grove close to the scene of the attack.
A section of the Springfield Road, between the Falls Road and Elswick Street, was closed to traffic.
Colin Keenan, an SDLP councillor, said it was a horrific scene, with the dead man lying in the grounds of an industrial estate and visible from surrounding residents' windows.
Relatives at the scene were devastated, he added.
Mr Keenan said: "I condemn this murder completely and in doing so I reflect the view of all of the community.
"There is a real sense of shock that this has happened.
"We have long hoped that the shadow of death had been lifted from west Belfast.
"Today's event is a terrible, tragic reminder of the violent conflict of the past."
Ms Villiers said: "I condemn this brutal murder which has left a family bereaved. Anyone with information should contact the police."
Sinn Féin MLA for West Belfast, Jennifer McCann, said: "This killing was in broad daylight in a very busy part of the Springfield Road.
"Those behind it had no consideration for anyone in this community except themselves and their own criminal agenda.
'Appalling crime'
"This community does not want them. They need to listen to this community, stop these senseless actions and go away."
David Ford, Northern Ireland's justice minister, said the murder should be condemned by all.
Mr Ford said: "I condemn this appalling crime and offer my sympathies to the family.
"Those responsible for this cowardly act will be pursued by the authorities and I would urge anyone with information to pass it to the police."
Belfast's lord mayor, Máirtin Ó Muilleoir of Sinn Fein, tweeted: "Shame on those who bring death to Belfast streets at Eastertide. They represent no-one but themselves and have no place in our great city."
A member of the Policing Board said the shooting "was a sad night for Belfast".
The Alliance Party's Chris Lyttle said: "We had all hoped we had left this type of violent behaviour firmly in the past and my thoughts are with the victim's family and friends and the wider community as they come to terms with this shocking incident."
A Police Service of Northern Ireland (PSNI) spokesman said: "Police are investigating a fatal shooting in the Springfield Road area of west Belfast this afternoon.
"One man has been shot dead in the vicinity of the Peter Pan centre."