Belfast disorder: Seven arrests in south and east of city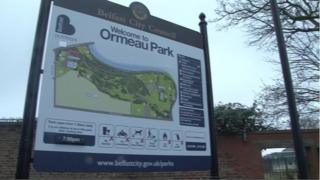 Police have made seven arrests after they were called to deal with disorder in several parts of Belfast on Monday.
Six men were arrested in Ormeau Park, south Belfast, on suspicion of a number of public order-related offences.
Two people were bitten by a police dog at Central Station, when a large crowd of train passengers became involved in disturbances inside the station.
There was also disorder in Castlereagh Street, east Belfast, during which a man in his 40s was arrested.
A police spokesman said officers are still at the scene of the disturbances in Central Station, but added the large crowd which had gathered in the building has now dispersed.
There were no arrests in the train station but officers received a report that a man and a woman were both bitten by a police dog during the disorder.
The PSNI spokesman said the matter will be referred to the Police Ombudsman's Office.
A spokeswoman for Translink, the company which runs Central Station, said railway staff called police to the area on Monday afternoon due to "anti-social behaviour by some of our passengers".
She said the incident took place over two hours from about 16:45 to 18:45 and there were "quite a number of people involved".
Shortly before 18:00 BST, Translink cancelled one train service on the Belfast/Larne line "due to disruptive passengers" but the line is now operating as normal.