Twaddell Avenue camp: Three in court over flag incident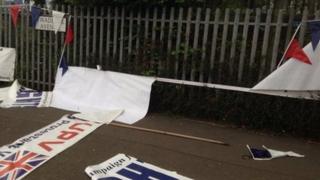 Three people have appeared in court charged in connection with an incident at a loyalist protest camp in north Belfast.
A number of flags and banners were damaged at the camp at Twaddell Avenue overnight on Tuesday.
Two men and a woman, aged between 20 and 22, appeared separately at Belfast Magistrates' Court on Wednesday.
All three were remanded in custody, pending a bail application from one of the accused, Sean Martin Hyland.
Kerry O'Hara, 20, of Ardmore Road in Londonderry, was charged with damaging banners and flags, waving an Irish tricolour with intent to provoke a breach of the peace, and stealing a union flag.
Patrick Anthony Quinn, 22, of Rosehead in Dunmurry, on the outskirts of south Belfast, was charged with damaging a union flag, waving an Irish flag at the flashpoint and stealing a flag.
Mr Hyland, 21, of Cranbrook Court in north Belfast, was charged with damaging banners, removing flags and banners, waving a tricolour in a provocative manner and obstructing police.
Neither Ms O'Hara nor Mr Quinn applied for bail.
Opposing a bail application by Mr Hyland, a police officer claimed he lived too close to the scene of the alleged trouble.
"In this case, what allegedly happened was this gentleman with the two others tore down banners, took down flags and also stood on the opposite side of the road to the camp with a tricolour and he waved it," he said.
He told the court it was a highly volatile location with ongoing public order problems.
Although he stressed it was not a "no-go area", planning would be required before police could go in to check on any bail conditions.
District Judge Fiona Bagnall ruled that Mr Hyland could be granted bail once an alternative address was approved by police.
She imposed an exclusion zone and banned him from going within 500 metres of the Twaddell Avenue demonstration.
Loyalists have been protesting at Twaddell Avenue since July, after a decision to restrict an Orange Order parade.