Sisters win case over will of Michael Hoey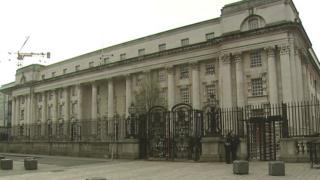 Two sisters have won a High Court battle to have their mother removed from administering their late father's multi-million pound estate.
Deirdre Muckian and Mary McCann issued proceedings over the handling of assets left after Michael Hoey died without leaving a will nearly 11 years ago.
His portfolio included land in Counties Armagh, Monaghan and Louth and retail premises in Dundalk.
It also included more than 750,000 euros in cash.
A forensic accountant valued his estate as being worth somewhere between £1m-£5m.
Mrs Muckian and Mrs McCann took legal action against their mother Albina Hoey, who acted as personal representative of her husband's estate since his death in October 2003.
Mrs Hoey's three sons and another daughter were named as joint defendants in the action.
Lawyers for the plaintiffs pointed to alleged delays over the administration of the estate.
'Restless and unhappy'
An inheritance tax account was apparently only submitted to HM Revenue and Customs in January 2009, the court heard.
In his newly published ruling, Mr Justice Deeny said the two sisters became "restless and unhappy" about the situation.
He set out how the three sons were given a farm each and the use of yards adjoining a family business premises at Concession Road, Cullaville, where coal, meal and oil sales were carried out.
The plaintiffs rejected money offers in connection with two of the properties.
Although Mrs Hoey was said to have gone through two hip operations, the judge described her as articulate and well.
"She is 74 years of age but if it was just a question of age and health I would be satisfied she could continue (as personal representative)," he said.
However, he ordered that she should be removed from administering her late husband's estate.
Appointing a firm of solicitors to perform the task instead, Mr Justice Deeny said: "It is clear this lady does not understand her duties as a personal representative. She has not discharged them.
"She has not properly protected the welfare of the beneficiaries and by her own admission she is not a proper person to administer this estate further."