Deal in place for purchase of Odyssey Pavilion in Belfast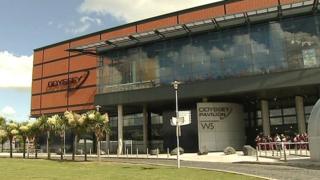 A deal is in place for a new owner for the Odyssey Pavilion in Belfast.
Northern Ireland's biggest entertainment venue has been in the control of an Irish bank for several years.
The cinema operator Omniplex has said it has signed contracts with administrators KPMG.
The proposed purchase is believed to be for much less than the £10m asking place, but needs the approval of the Odyssey Trust before becoming final.
Paul Anderson, the NI operations director of Omniplex, said: "We have binding contracts with KPMG. It is something we are excited about."
The company is family-owned, based in Dublin, and primarily runs 11 cinemas on each side of the border.
Recently it acquired the Eastpoint Leisure Park in Dundonald.
The Odyssey Pavilion, which adjoins the Odyssey Arena and W5 Science Centre, comprises 15 units, including bars and a 12-screen cinema.
'We want to invigorate it'
It was put onto the market in 2012, two years after going into administration.
At that stage, its original developer, Peter Curistan, owed the former Anglo Irish Bank more than £70m.
"We want to invigorate it," said Mr Anderson.
"It started off as a destination for Belfast and beyond. We want to get stuck into it and get it working."
He also said the company wanted to change the venue's appeal.
"We are not in the business of nightclubs. We are not in the business of 2am people falling out onto the streets," he said.
"That is not us. We want to achieve a family-friendly environment."
The Odyssey - its pavilion and adjoining concert arena - is Northern Ireland's landmark millennium project, built at a cost of about £120m.
The Odyssey Trust is the body that manages the overall site and it is due to discuss the deal at a board meeting next month.
It said in a statement: "The trust continues to monitor the sales process.
"It is most concerned this important element of the Odyssey is regenerated as soon as possible."