Enda Kenny hopes Pope Francis will visit Northern Ireland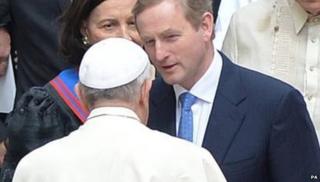 Irish Prime Minister Enda Kenny has said he hopes Pope Francis will visit Northern Ireland if he accepts his invitation to visit the Republic of Ireland.
Mr Kenny made the personal invitation while lined up to meet the Pope after he had declared his two predecessors John Paul II and John XXIII saints.
The only papal visit to Ireland saw John Paul II come to Dublin in 1979.
He did not visit Northern Ireland because of the security situation.
Mr Kenny said while official invitations were a matter for the Catholic Church in Ireland, his government would do everything to ensure his visit was a success.
Earlier this month, councillors in Belfast voted in favour of inviting Pope Francis to the city.