Milford House Museum hunts auctioned treasures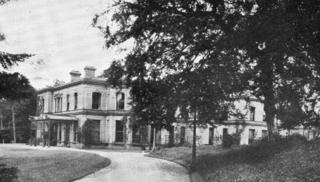 A museum curator has appealed for help in tracing items auctioned off by their owner, the inventor of the penalty kick whose family fortune was wiped out in the Wall Street Crash.
Milford House in County Armagh was owned by the McCrums, a wealthy linen manufacturing family, but financial difficulties meant they had to sell off their prized possessions.
Stephen McManus, who runs a museum in the village dedicated to preserving the house's legacy, says a newspaper advertisement in 1930 provided a breakthrough in his hunt for the lost treasures.
"I spent five days searching through old newspapers, but I didn't know which one it was in - all I knew was what year it was held in," he says.
He finally managed to find the advertisement in the Ulster Gazette and Armagh Standard, which lists valuable oil paintings, elaborate furniture and fittings and a full-size billiards table among the items for sale.
"We want to give an impression of what Milford House was like when the family lived there," he says.
"People could be out there who have these items but don't even know it, and you never know what might turn up."
He says tracing the items would help in his fight to save Milford House, a listed building that has been derelict for almost 25 years.
"Milford was the first house in Ireland to have hydro-electric electricity, it had a waterfall in the dining room and six bathrooms each with a jacuzzi," he says.
"However, it is the penalty kick that people most associate with Milford."
While Robert Garmany McCrum was the man who built up the family's fortune, his son who lost it all was responsible for the footballing innovation that has brought so much pleasure and pain to generations of fans.
"Football back then was an uncivilised game at the time with several deaths recorded in England, so there were moves to make the game respectable," he says.
"He proposed it in 1890 but it wasn't taken on board for a while, but eventually it caught on and it was known as the 'Irishman's rule' - in his lifetime he didn't get recognition compared to his father."
Mr McManus founded a trust dedicated to preserving Milford House in 2000 when he was aged 15, and he says the museum, located in an old mill house in the village, has been a real labour of love for the trustees.
He says if the antiques could be located, they would try to raise funds to buy them.
"We'd understand if people didn't want to part with the items, but if we could even see them, we could create replicas to put on display," he says.