EY accountancy firm creating 486 jobs in Belfast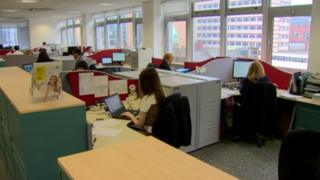 Almost 500 jobs are being created in Belfast by EY, formerly known as auditors Ernst and Young.
The 486 jobs will be in various business consultancy fields, including auditing.
They will be created over the next four years. The Northern Ireland Executive said it would contribute £19m in salaries to the local economy.
EY already employs almost 1,500 people across Northern Ireland and the Republic of Ireland.
In Belfast, 145 people are employed.
Invest NI is offering almost £3m in aid.
Mike McKerr of EY Ireland said: "We are delighted to bring this investment to Belfast which will further enhance our current service offering to clients.
"As a global company with a presence in more than 150 countries, we continually evaluate the best locations for expansion to ensure maximum productivity and growth.
"We have been working closely with Invest Northern Ireland for some time on this project and their support and advice has been instrumental in EYs decision to locate this project in Belfast."
Mr McKerr said that since July 2013, EY had added 180 people to its staff across the Republic of Ireland and Northern Ireland.
"This is a positive achievement and demonstrates that EY's investment programme is paying dividends," he said.
"It's equally promising to see that client confidence is returning as the all-island economy shows signs of growth generating more employment opportunities, so vital to recovery."
Paul Henry, chairman of the Chartered Accountants Ulster Society, said the jobs were "great news for the Northern Ireland economy and for the accountancy profession".
"It shows that recovery is developing in Northern Ireland," he said.
"A significant number of quality jobs like this is very encouraging and is a good indicator of increasing demand for business services across the economy. I congratulate all of those involved in helping to secure this significant investment."
Recruitment for the jobs is expected to begin in July. These are highly skilled positions, geared towards graduates.
Half of the jobs will be in management consultancy and most of the remainder will be in other business functions like auditing.
The annual average salaries of about £39,000 are among highest of any jobs creation project backed by Invest NI.
EY has its headquarters in London and employs about 175,000 worldwide working from 700 offices.
In 2013, it had global revenues of almost $26bn (£15.4bn).