Aloysius Hackett killing: Son jailed for life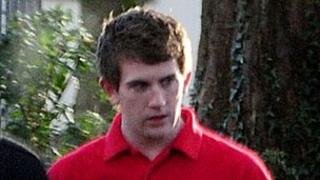 A County Tyrone teenager who killed his father will spend at least ten years of a life sentence in jail.
Sean Hackett, 19, was cleared of murdering his father, Aloysius, 60, at their family home in Augher in 2013.
Instead, he was convicted of manslaughter on grounds of diminished responsibility.
The judge said that Hackett posed a "significant risk of serious harm to others".
He sentenced Hackett to life imprisonment with a minimum term of ten years to be served before he can be considered for parole.
Hackett was also convicted on two charges of having a gun and ammunition with intent to endanger life.
Schizophrenia
Speaking in Laganside Courthouse, the judge said Hackett carried out the killing after "considerable planning and preparation in advance".
He said that Mr Hackett did not die immediately and that "his terror is not hard to imagine".
The judge also said that Hackett was "delusional" in believing that by killing one of his parents, they would then look after him from heaven.
The judge added that there was a risk Hackett was developing schizophrenia.
Ronan Mulrine, who provided the rifle Hackett used to kill his father, was given a suspended sentence.
He had previously pleaded guilty to two charges of possessing a firearm and ammunition in suspicious circumstances.
The judge said Mulrine was "in awe" of Hackett , but accepted Mulrine was unaware of the young man's state of mind or "intention to kill one or other of his parents".
Complex
Hackett, a former Gaelic Athletic Association (GAA) footballer had always admitted killing his father, whom he shot twice in the head, in the driveway of their Aghindarrah Road family home in Augher, on 4 January 2013.
But he had denied murdering his father, who was a former chairman of St Macartan's GAA in Augher.
In their verdict the jury of six women and six men accepted the defence case that Hackett, was a mentally disturbed, deluded teenager on the possible verge of schizophrenia when he killed the father he professed to have loved.
The trial was described as one of the most extraordinary and complex criminal cases ever to come before the courts.