Ruan Pienaar due at head injuries campaign launch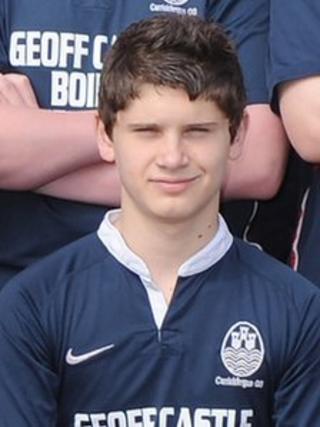 Ulster Rugby's Ruan Pienaar is due at the launch later of a campaign to highlight the dangers of head injuries.
"Recognise and Remove" is a leaflet and poster campaign targeted at schools.
It follows the death of Benjamin Robinson from Carrickfergus in a rugby match in 2011.
The 14-year-old was allowed to carry on playing despite suffering a concussion. His father, Peter Robinson, is campaigning to try to ensure similar deaths never happen again.
"With children, we can't risk it. If they receive a concussion, which is a brain injury, we have to treat it as such," Mr Robinson said.
"We can't leave it to ask the player themselves are they OK to carry on, because it's a brain injury, they're going to suffer from daze and confusion.
Heavy tackles
"It's similar to asking a drunk driver if it's OK to drive."
The syndrome happens when a blow causes swelling to the brain before it has recovered fully from an earlier injury.
Ben Robinson was in several heavy tackles before collapsing near the end of the game in January 2011.
He had been momentarily knocked out at the start of the second half of play.
His parents had argued he should have been taken off the pitch at that point in the game.
At the inquest, the coroner said this was the first recorded death due to second impact syndrome in Northern Ireland and probably in the rest of the UK.