Alliance Party office in east Belfast petrol bombed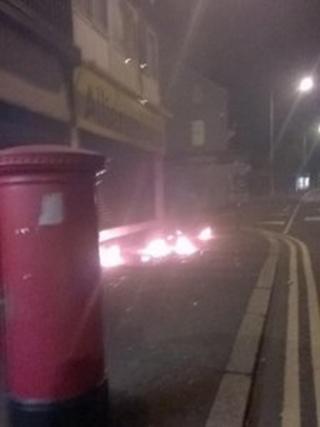 Seven petrol bombs have been thrown at an Alliance Party office in east Belfast, the police have said.
The attack on the premises on the Upper Newtownards Road happened at about 23:00 BST on Tuesday.
Scorch damage was caused to the building and windows were smashed, but no-one was injured.
The police have recovered CCTV footage of the attack showing at least four people were involved.
The footage, which has been seen by the BBC, shows they were wearing hooded tops and began throwing stones and bricks at windows of the office just before 23:00 BST.
Once they had broken glass in an upstairs window, the attackers began hurling petrol bombs, before running off.
The pictures also show seven petrol bombs being thrown.
The police are studying the footage but, at this stage, it is not being released to the media.
Chief Inspector Darren Jones said a number of witnesses had already come forward, but appealed for more.
The office has been targeted a number of times since a vote on the flying of the union flag at Belfast City Hall in December 2012.
East Belfast Alliance MP Naomi Long said the party would "not be driven out".
"There will be no no-go areas in east Belfast for the Alliance party or for anybody else while I'm elected in this constituency," she said.
Appeal
She added: "If there are still people out there who think that violence and intimidation will prevent Alliance from working on behalf of the public in east Belfast, they are absolutely and totally wrong.
"My colleagues and I will not be bullied or intimidated. We will not be deflected by men of violence from carrying on the work of peace-building, and no-one should be under any illusion otherwise."
First Minister Peter Robinson of the Democratic Unionist Party tweeted: "I condemn without reservation the senseless attack on E. Belfast Alliance Party office. No cause ever advanced by such criminality."
Deputy First Minister Martin McGuinness of Sinn Féin tweeted: "The bigots responsible for last night's attack on Alliance Party office must be challenged and unreservedly condemned by all political leaders."
SDLP leader Alasdair McDonnell said: "The cowards, thugs and bullies behind this attack should be ashamed of themselves".
The police have appealed for anyone who witnessed the attack or has information to contact them.