Fisherman lands golden treasure - in field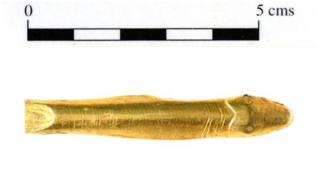 A County Down fisherman has landed the catch of his life - in a field.
Barry Shannon, 22, found a 7th Century gold object, resembling a fish, on his aunt's farm near Downpatrick last March.
It was officially declared a treasure on Wednesday at Belfast's Coroner's Court.
An expert told the court the fish was Anglo-Saxon in origin and may have been part of a larger item, like a belt buckle.
Mr Shannon had recently taken up metal detecting as a hobby and struck gold on his fourth attempt.
However, he had no idea what he had discovered.
"I'm a fisherman and it looked like a spinner you have on the end of a line, without a hook," he said.
"I actually offered it to my cousin and asked him if he wanted it, but he told me to keep it as I'd been out there all day."
Mr Shannon showed it to his aunt, Jean McKee, who owned the land where the item was found.
She took the fish to Downpatrick museum for further examination.
Nothing similar could be found in any museum on the island of Ireland.
It was not until a Cambridge University expert was contacted that the mystery was solved.
The fish is almost identical to another one that was found on an elaborate Anglo-Saxon gold and silver belt buckle in Crundale, Kent. It is now in the British museum.
But how a similar object ended up in County Down remains unexplained.
Dr Greer Ramsey, curator at National Museums Northern Ireland, described it as an "unusual" find as there was no settlement of Anglo-Saxons in Ireland.
"We don't know how it got there. One explanation might be that there was an element of trade going back and forth across the Irish sea," he said.
Or it is possible the fish may be connected to Downpatrick as an early site of Christianity in Ireland.
The fish, which is 6cm in length, is about 85% gold, with a copper alloy core.
The item will now go to the British Museum for valuation and it is thought it will eventually end up in the Ulster Museum.