SDLP launches European and local government election manifesto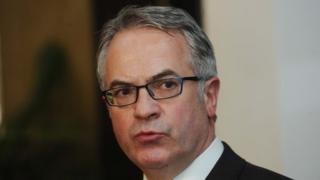 The SDLP has said David Cameron's decision to commit to a referendum on EU membership by 2017 was a strategic error.
In its European and local government manifesto, launched on Wednesday, the SDLP said it supports reform of the European Union.
However, it said its strong advice in any referendum would be to vote yes to EU membership.
The party welcomed German politician Martin Schulz to Belfast on Wednesday.
Mr Schulz is president of the current European parliament and the socialist candidate for the top job in Europe as head of the EU Commission.
SDLP leader Alasdair McDonnell told party activists Northern Ireland has spent too long on the margins of Europe with Euro sceptic MEPs failing to deliver.
'Lost influence'
Mr Attwood said the SDLP could exert influence in Europe.
"People are let down and fed up with the stagnation, they want politics to move forward in Northern Ireland in a bold, decisive way," he said.
"And they want strength again in Europe because the north has lost influence in Europe since John Hume stepped down.
"There's a gathering opportunity to change fundamentally our politics here at home and to elect a strong, decisive voice to the European parliament."
The SDLP manifesto says EU membership is worth £3,000 every year to every household in Northern Ireland.
It says the party will aim to increase employment by 10% over the next six years.
The manifesto criticises the agriculture department's handling of European payments, claiming the department "has become removed from the farming community".
On local government, the SDLP promises to ensure business and domestic rates do not rise above inflation.
Alex Attwood and his young family were given an enthusiastic reception by SDLP supporters - the party has not had an MEP since John Hume retired a decade ago, but it insists a comeback remains possible.