Green Party NI launches manifesto for European and council elections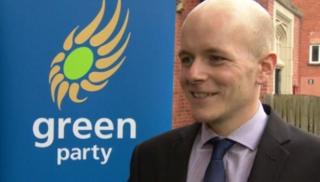 The Green Party in Northern Ireland has launched its manifesto for the European and local government elections on 22 May.
Its policies include helping to build better neighbourhoods, tackling waste and transport issues, supporting the local economy and job creation through sustainable strategies and protecting the most vulnerable by defending health and social services.
The party says it already have a strong voice in Europe.
It has called on people in Northern Ireland to move away from traditional voting to embrace new cleaner, greener ideas.
The party's European election candidate, Ross Brown, said: "If people really want to see change, they need to vote for change.
"If people want to vote for a political party that is a broad family right across Europe, where identity politics is a non-issue for us because we have Green Party representatives all over Europe, then go for something different.
"Think about going for the fourth biggest group in the European Parliament and the biggest party there as well."