Harry McFerran jailed for sexually abusing two brothers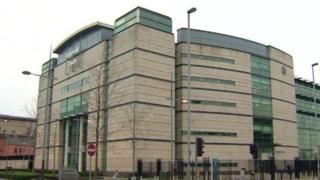 A Belfast man who sexually abused two young brothers, attacking one of them when he was four to five years old, has been jailed for a total of 16 years.
The victims both waived their right to anonymity so their abuser, Harry McFerran from Orangefield Parade, could be publicly identified.
Last month, McFerran was convicted of 22 sex abuse charges against the pair.
One brother said he was elated by the sentence and called on other victims of historical sex abuse to come forward.
'Sense of justice'
Speaking after Thursday's sentencing, the now grown man warned other sexual abusers: "You might hide and long runs the fox, but you will be caught and the justice system will deal with you".
He added that going through the trial process was "a hard thing to do", but added: "I have done it and have come out the other side better than I expected".
"I would urge others to come forward and tell your story. I am not going to say it is easy, but its worth it in the end.
"It really really is, the sense of justice of being believed at last by 12 people that didn't know me," the victim said.
The Belfast Crown Court trial had heard that McFerran had committed 20 of the 22 against the older brother, and that he abused the boy "in every conceivable manner" over a ten-year period.
The offences date back 43 years, to when the victim was a vulnerable four or five year old child.
'Breach of trust'
The victim went on to say that his whole life "has been very much on hold" but added that "now of the first time I can get on living my life".
"I would reiterate, that if there is anybody out there thinking of reporting it, please do so...whether historical or not," the man said.
Earlier he and other members of his family listened as the judge told 68-year-old McFerran he was guilty of "an extreme breach of trust".
She said his crimes were made all the more serious by his constant denials, which had meant the brothers had to "contend with the unpleasant experience" of having to give evidence in open court.
The offences ranged from indecent assaults, to gross indecency and one occasion rape.
The judge said McFerran's abuse of the brothers was both "systematic and sustained" and had been carried out over a prolonged period of time when they would have been vulnerable.
The court heard that according to victim impact reports, McFerran's abuse has had a lasting impact on both of his victims' lives.