Lord Trimble: Scottish independence vote 'divisive'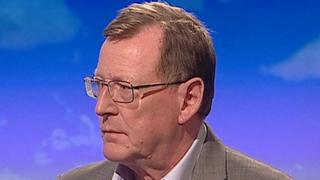 Former NI First Minister Lord Trimble has said a Scottish vote for independence could cause division in Northern Ireland.
Lord Trimble, the former Ulster Unionist leader, was speaking on the Daily Politics Show.
He said he believed the current political situation was "stable".
However, he added: "The only thing I see on the horizon that could cause a serious problem with that stability is the referendum in Scotland."
Lord Trimble went on to say: "If the referendum in Scotland goes in the way I regard as the wrong result, that will change the political context in Northern Ireland and that would cause strains.
"It would put what is now a non-issue [a possible referendum on a united Ireland] into a major issue and it would be divisive, obviously."
On Thursday, 18 September, registered voters in Scotland will be asked the referendum question: "Should Scotland be an independent country?"
Those voters will have a straight choice between "yes" and "no".