Orange Order chaplain Mervyn Gibson wants Gerry Adams 'memorial'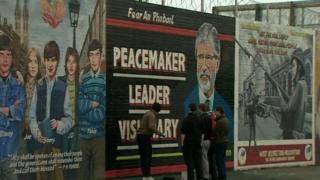 The grand chaplain of the Orange Order has declined to be interviewed after he made public remarks about a "memorial" to the Sinn Féin leader, Gerry Adams.
The Reverend Mervyn Gibson told a Belfast rally: "I see they've painted a new mural to him on the Falls Road. Sadly, it's not a memorial mural."
The mural was painted shortly after Mr Adams was arrested in connection with the 1972 murder of Jean McConville.
Mr Adams was released on Sunday and a file is being sent to prosecutors.
The Sinn Feín leader, who denies any involvement in the IRA murder of the Belfast mother-of ten, was questioned over five days at Antrim police station.
The new mural depicts an image of Mr Adams alongside the words: "Peacemaker, leader, visionary."
Mr Gibson made his memorial remarks at a rally in Belfast at the weekend, and also made further allegations about Mr Adams' past.
The footage was posted on the internet.
The chaplain has been a prominent Orange Order spokesman during recent parade disputes.
He was also a member of the Democratic Unionist Party's delegation at last year's Haass talks.
The all-party talks were aimed at resolving disputes over flags, parades and the legacy of the Troubles but broke up without agreement on 31 December.
When contacted by the BBC on Sunday, Mr Gibson declined a request to discuss the content of his rally speech.
Sinn Féin has also declined to comment on Mr Gibson's remarks.