Polish consul to meet police over hate crimes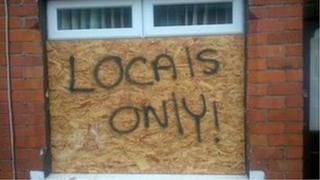 The homes of three Polish families have been attacked in east Belfast.
The rented homes on Roslyn Street were daubed with graffiti saying 'locals only'.
It follows a spate of hate crimes in the area, which the police blame on the UVF. Police have appealed for information about this latest incident.
The NI Honorary Polish Consul, Jerome Mullen, is to meet senior police officers to discuss the "very disturbing" number of hate crimes in Belfast.
'Hate crime capital'
Speaking to BBC Radio Ulster's Talkback programme, he said: "The families are frightened and they don't understand why this has happened to them.
"I'm concerned about where we are going and we have to get it stopped.
"It is very sad when you have these continued attacks taking place, they've been going on for far too long now."
Mr Mullen said he would meet Assistant Chief Constable Will Kerr on Tuesday to discuss how further attacks can be prevented.
"This is a community issue that needs to be tackled, in both east and north Belfast in particular. We have to try and address it," he said.
Polish community worker Eva Grosman said: "Yet again Northern Ireland is gaining the reputation as the hate crime capital of Europe."
She added: "With all the efforts that have gone on to create a positive image of Northern Ireland, it's really having a negative effect."