European Union membership helps Northern Ireland - Alliance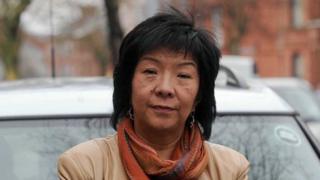 The Alliance Party has said membership of the European Union allows Northern Ireland to overcome its "small wee country" attitude and turn it into an outward, open-minded place.
The party launched its European and local government election manifestos on Tuesday.
It said consideration should be given for an EU role in any programme dealing with the legacy of the troubles.
Alliance came sixth in the last European election with 5.5% of votes.
The party hopes its high profile candidate, South Belfast MLA Anna Lo, will increase its vote.
Ms Lo said if elected she would represent a new progressive face as an ambassador for Northern Ireland in Europe.
Alliance used to back replacing the pound with the euro, but after the credit crunch it now said the conditions would not be right in the immediate future.
The party's manifesto opposes any referendum on the UK pulling out of the European Union, but said if the UK government held a vote, the party would campaign to stay in.
Shared future funding
Alliance said all European funding for Northern Ireland should be proofed for its impact on creating a shared future
On local government, Alliance wants the cap removed which stops owners of properties worth more than £400,000 paying the same percentage of rates as other householders.
It argues in favour of a single flag flying policy for the new council buildings with the union flag flying on designated days.
Alliance politicians acknowledge the party's handling of the Union flag row in Belfast - where it holds the balance of power - has been raised on the doorsteps with its canvassers by a few voters.
But the East Belfast MP Naomi Long told reporters there had been less concern around the flag issue than she had expected and those who raised the matter were generally not Alliance voters.