Trust rejects Omniplex bid to takeover Odyssey Pavilion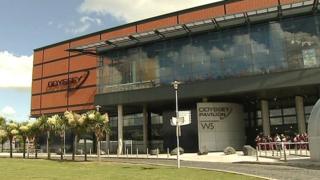 The body that runs the Odyssey in Belfast has rejected a bid to buy part of the entertainment complex.
Irish cinema operator Omniplex had made an offer to take over the lease of the Odyssey Pavilion, which was put into administration by a Dublin bank four years ago.
However, the deal was always subject to approval by the Odyssey Trust.
The bid was rejected at a board meeting because conditions attached to the bid were viewed as unacceptable.
The Odyssey Pavilion, which adjoins the Odyssey Arena and W5 Science Centre, comprises 15 units, including bars and a 12-screen cinema.
Omniplex offered significantly less than the £10m asking price and had a deal in place with administrators KPMG.
But the BBC understands the stumbling blocks may relate to rent revenue payable to the trust and service charges for the maintenance of the building.
The Odyssey complex is Northern Ireland's landmark millennium project, built at a cost of about £120m, partly from taxpayers.
Its trust is the charitable body that manages the overall site.
In a statement on Wednesday it said: "The conditions of the offer made would require the trust to fundamentally change the operational structures of the entire Odyssey complex.
"As such it would prejudice and undermine the trust's ability to manage the scheme effectively and protect the public investment."
But it added any revised offer would be considered.
The pavilion was developed by Peter Curistan and at the time it went into administration in 2010 he owed Anglo Irish Bank £70m.
In a statement, Omniplex said: "We have not had formal notification of any decision but will continue to seek a meeting with the trust board to discuss any areas of concern."