Stormont has 'lack of ambition' over EU funding, says UUP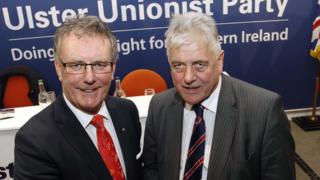 The Stormont Executive has demonstrated an "embarrassing lack of ambition" when it comes to drawing down EU funding, according to the Ulster Unionists.
The party launched its European and local government election manifestos in Enniskillen, County Fermanagh on Wednesday.
The party said its candidate, Jim Nicholson, had led the way in securing two billion euro of peace funding.
However, it said Stormont's record was much poorer.
It claimed the executive had requested 35 euro per person from a package to support the economy, compared to 590 euro per person in the Republic of Ireland.
UUP leader Mike Nesbitt said: "We have a pretty abysmal record and that's down to the Northern Ireland Executive.
"We could do an awful lot better and start by taking the lead set by my colleague (DRD minister) Danny Kennedy.
"All those new buses and trains wouldn't be on the streets and on the tracks without European draw down, that's the example we need to follow."
Rates
The Ulster Unionist Party said it was time to review and renegotiate the relationship between the UK and the EU, and said it supported a referendum in order to restore public trust and confidence.
It said significant EU funding was needed to create a single, shared education system.
On local government, it called for flexibility in rates for businesses in financial difficulty and said ratepayers must be protected from any increases associated with council mergers.
Mr Nesbitt said he was not worried by the number of unionists standing for election, but urged people to turn out on 22 May and transfer votes between all the unionist candidates.
"I'm not concerned there are a lot of unionist candidates, I'm concerned that people go out and vote... and then we'll be fine," he said.