Giro d'Italia: Only four bikes allowed on each train in NI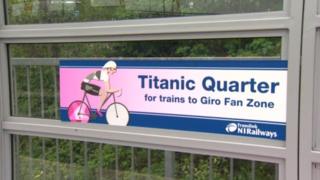 Only four bikes will be allowed on each train in Northern Ireland as it hosts thousands of cycling fans for the world's second-largest bike race.
Northern Ireland's public transport company, Translink, has a four-bike per train policy and is not changing it during this weekend's Giro d'Italia.
The limit remains in place despite advice that spectators should use public transport to get to the event.
Translink said it retained its policy as it expects to carry more passengers.
Road closures
Northern Ireland is hosting the opening stages of the international cycle race from Friday 9 May to Sunday 11 May.
The competitors will race through parts of Belfast on Friday and along the north coast on Saturday.
They will cycle through Armagh on Sunday, before crossing the border and moving on to Dublin.
This week, the Police Service of Northern Ireland warned the public of road closures and disruption during the event, and advised them to use alternative routes.
They advised fans with tickets for the Giro to either walk, cycle or use public transport to get to the event.
In Belfast, more than 2,000 extra parking spaces for bikes are being made available during the race.
Extra buses, trains and coach services have also been put on to cater for the spectators, estimated to number about 100,000.
Asked why extra bike capacity was not being created on trains, Translink's Ian Campbell said: "It's due to the additional number of people that we expect to be carrying."