Merchant Hotel Ltd reduces losses to £534,000 in 2013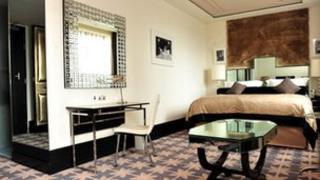 The company that owns the five-star Merchant Hotel in Belfast reduced its losses to £534,000 in 2013.
That compares to a loss of more than £11m in 2012, which was due to a big fall in the value of the hotel buildings.
The directors said there was no further fall in the value of the building in 2013, though the value of its drinks licences was written down by £140,000.
The Merchant is owned by Bill Wolsey who also controls a chain of pubs.
Merchant Hotel Ltd increased its turnover to almost £11m in 2013 compared to £10m in 2012.
Part of the reason for the overall loss was a provision of £1.2m for doubtful debts.
The directors say the firm's 2013 performance was "satisfactory" and that the commercial environment would "remain competitive" in 2014.
The company has borrowings of £21m with Ulster Bank and a note in the accounts states that the directors are in discussion with the bank and 'alternative funders' about refinancing that debt.
A holding company in Mr Wolsey's group of firms, Seanachai Ltd, reported a profit of £452,000 compared to a loss of £1.3m in 2012.
Seanachai's accounts indicate that the top company in the group is now a firm called Beannchor No1, which was incorporated in 2013 and is yet to file accounts.