BT confirm extra 45,000 rural premises to get broadband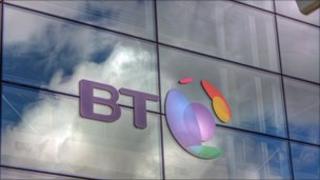 BT has committed to providing broadband to an extra 45,000 premises in rural areas by the end of 2015.
The expansion of its broadband network is part of a £24.5m project.
The Department of Enterprise, Trade and Investment (DETI) and Department of Agriculture and Rural Development (DARD) are providing £19.3m of funding to the project.
Currently over 90% of premises in Northern Ireland are connected to fibre broadband.
This is a higher percentage than other regions of the UK.
Colm O'Neill, chief executive of BT Ireland, said: "That percentage puts Northern Ireland ahead of the rest of the UK and most of Europe, which is a good thing.
"However, there are still a lot of people who can't get fibre-based services and a lot of people still getting very low speeds."
He added: "The delivery of the Northern Ireland broadband improvement project, once complete, will again put Northern Ireland ahead of the rest of the UK, Ireland and most major European countries for availability of fibre broadband technology.
"This could significantly benefit the region's continued economic growth."
Mr O'Neill said that around £100m had been spent on rolling out the fibre broadband network to date, almost half contributed by BT.
BT Ireland also said it had seen a two per cent rise in annual revenues to £661.6m, boosted by demand for its combined high speed fibre broadband and television services.
Operating profit at the local arm of BT Group was down five per cent from the previous year because of a one-off cost related to its expansion into managed IT services.