Giro d'Italia: Opening ceremony takes place in Belfast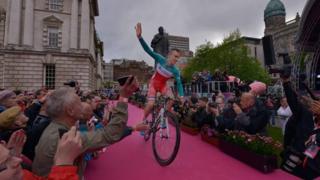 The opening ceremony of the Giro d'Italia cycle race has taken place in Belfast.
About 5,500 members of the public gathered at City Hall for the event that saw each of the 22 cycle teams introduced on stage.
The race itself gets under way on Friday in Belfast with a team time-trial.
It is one of three stage routes that are taking place at the Causeway Coast and Armagh.
After passing through Armagh on Sunday, the cyclists will cross the border and end the stage in Dublin.
The opening ceremony marked the start of the Giro d'Italia in Northern Ireland after 14 months of preparation.
In February 2013, it was confirmed Northern Ireland had beaten off a rival bid from Venice to secure the start of the race.
Councils, tourism bodies and sponsorship both north and south of the border contributed £5.5m in funds for the bid.
The Giro d'Italia is one of cycling's most famous events and TV coverage is watched every year in 165 countries.
It is one of the three grand tours in the cycling calendar, along with the Tour de France and the Vuelta a España.
Speaking at the opening ceremony, BBC cycling correspondent Matt Slater said: "The Giro is the second oldest, grand tour and probably the second biggest in terms of prestige.
"It used to be neck-and-neck with the Tour de France, but in the last 20 or 30 years the Tour de France has got very big.
"But the Giro is still very, very big and the people in Italy will not hear anybody say that the Tour de France is bigger than the Giro."
He added: "These three stages in Northern Ireland are going to be fairly straightforward for the riders. But don't be downhearted about that, it's not a reflection on Northern Ireland or Ireland.
"But if the wind picks up on the Antrim coast, then that stage could be quite tricky."