Irish police: Damning Guerin report published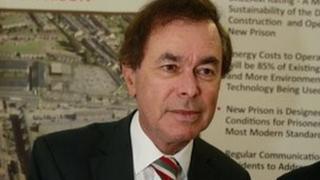 Ireland's police, a watchdog and the justice ministry failed to properly investigate claims of corruption and malpractice, a report has found.
A review of claims of poor policing by a whistleblower has warned that no official body was prepared to act on the word of the officer.
The 300-page report by barrister Sean Guerin contains several cases of negligent police work.
It calls for a statutory inquiry to examine the force.
This would be the latest in a series of full-scale tribunals into policing standards in Ireland.
The state inquiry is being urged to examine several police investigations that were brought to the attention of the authorities, but inadequately acted on.
These include cases involving sex offences, child abduction, false imprisonment of a girl and child pornography.
Failing
It also recommends an investigation into how the police chief, former Garda Commissioner Martin Callinan, and Alan Shatter, who resigned as justice minister on Wednesday, dealt with the concerns raised with them.
The Guerin review pointed the finger at the police, the Garda Ombudsman and the Department of Justice for failing to heed the word of Sergeant Maurice McCabe after he first raised concerns in September 2012.
"No complex organisation can expect to succeed in its task if it cannot find the means of heeding the voice of a member whose immediate supervisors hold him in the high regard in which Sgt McCabe was held," the report said.
"Ultimately, An Garda Siochana does not seem to have been able to do that.
"Nor does the minister for justice and equality, despite his having an independent supervisory and investigative function with specific statutory powers.
"The same appears to be true of Gsoc (Garda Siochana Ombudsman Commission)."
Mr Guerin hit out at the ombudsman's office for not making documentation available to his review in relation to Sgt McCabe's complaints and how they were handled.
Garda Commissioner Noirín O'Sullivan said the report by Mr Guerin was "detailed and extensive" and that she is studying it closely with senior police management to identify any actions that can be taken.
She added: "An Garda Síochána will fully co-operate and facilitate the commission of investigation in its examination of the serious issues raised by the report."