Alan Shatter resignation inevitable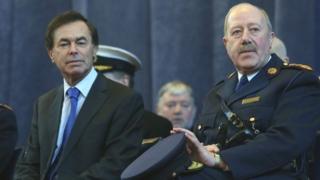 If Alan Shatter had not already resigned as justice minister earlier this week, he would have had to be sacked following the publication of the Guerin report.
The same observation is also true for the former police chief, Martin Callinan, who stood down last month.
The 300-page report by the barrister Sean Guerin is a scoping enquiry; that means it was looking at evidence with a view towards a fuller and more lengthy enquiry - a commission of investigation - possibly headed by a judge.
Alan Shatter, whom we know from his resignation letter disputes some of the findings, is deemed to have been not independent enough in his assessment of what the whistle-blower, Sgt Maurice McCabe, had to say.
The opposition parties had long accused Mr Shatter and Mr Callinan of having too cosy a relationship.
Sgt McCabe's actions in exposing police failures in investigating serious crime - including sexual offences, possession of child pornography and incidents involving a man later convicted of murder - appear to have been vindicated.
'Critical voice'
Mr Guerin finds that the police service (Garda Síochána) does not seem to have been able to heed the voice of a man, Sgt Maurice McCabe, held in high regard by his immediate superiors.
He also states that in the Garda Síochána, "a critical voice is in danger of being heard as a contrary voice".
Sgt McCabe, who has been vindicated, is currently not allowed full access to the police PULSE computer system.
As for the watchdog, Ombudsman Commission, Mr Guerin finds that it was "unfortunate" that he received no documentation from it.
He said the lack of documents from GSOC has been an obstacle to any assessment as part of this review of the adequacy of the investigations conducted by the Ombudsman Commission.
The opposition parties and independent TDs who championed Sgt McCabe and another police whistleblower, John Wilson, feel vindicated and justified in repeatedly raising their concerns.
Many controversies
Both men had also accused senior officers of wiping the penalty points off the driving licences of some well-connected individuals.
With Alan Shatter and Martin Callinan now gone, the government's opponents will turn their attention to the prime minister (taoiseach), Enda Kenny, and the rest of the Fine Gael-Labour coalition who stood firmly behind the former justice minister for so long, despite the many controversies he was involved in.
Mr Kenny has already said the proposed commission of investigation could also look at the whistleblowers' claims and other matters including the suspected bugging of GSOC's Dublin offices.
The suspected bugging is currently being investigated by the retired High Court judge, John Cooke.
The new justice minister, Frances Fitzgerald, has said there "is a crisis of confidence among the public in relation to the Garda Siochana that has to be dealt with" and that there "has to be a new era" and a "new culture" in relation to policing.
Similar statements were made in the past about police behaviour - the Morris enquiry into police activities in Donegal comes immediately to mind - but this time there will be more pressure on both politicians and senior police officers to deliver a fresh start.