Disabled woman escapes pipe bomb attack in Ballymoney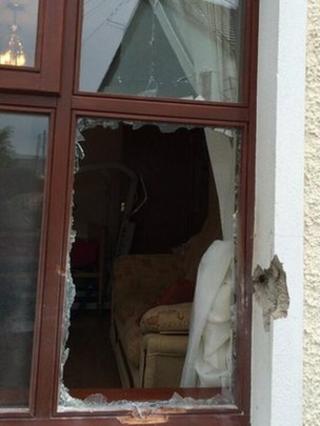 A woman with Down's syndrome was among three people who escaped injury in a pipe bomb attack in Ballymoney, County Antrim.
She was asleep when the device exploded at her house in Hanna Court at about 04:15 BST on Saturday.
The 59-year-old was in the house at the time along with her sister and nephew. They are said to be badly shaken.
Ten minutes later, another pipe bomb exploded at Henry Street, damaging a house and a car parked outside.
A man thought to be in his 40s was in the house at the time. Police said it was not believed he was injured.
A number of homes were evacuated in the area around the two houses while bomb disposal experts examined the scene.
Appealing for information, a police spokesman said: "At this stage, police are investigating a link between both incidents - enquiries are continuing."
Police said the security operation would not affect the Giro d'Italia cycle race, which passes through the town on Saturday.