Two charged over war memorial damage in Newry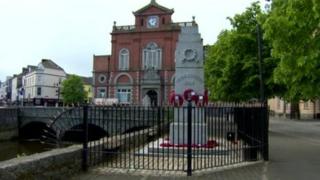 Two men have been charged in connection with damage caused to war memorial wreaths in Newry, County Down.
The men, aged 20 and 42, have been charged with criminal damage and disorderly behaviour.
The 42-year-old has also been charged with indecent behaviour. They are both due to appear in court next month.
The men were arrested after two people were spotted on CCTV throwing wreaths and crosses from the monument into the river at about 00:20 BST on Sunday.