Ballymena company Wrightbus creates 130 new jobs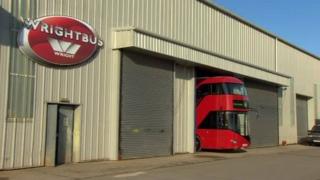 Wrightbus, the Ballymena bus company, is creating 130 jobs. They will be at the firm's factory in Antrim which manufacturers chassis.
The company is making a total investment of £14m - more than £10m of which will be for research and development projects.
About 70 of the new jobs are already in place. The rest will be added over next two years.
The investment is being supported with a grant of £2.5m from Invest NI.
The new jobs will pay an average salary of £19,500.
The research and development projects are aimed at developing new vehicles for the company's export markets in Asia and the Middle East.
The firm's managing director, Mark Nodder, said the investment brought the firm closer to its ambition of becoming "a major international supplier to the worldwide bus market".
Wrightbus employs almost 2,000 people.
Its best-known product is the new bus for London, often known as the "Boris bus" after London mayor Boris Johnson who championed it.