Time in the bank: Belfast centre casts fresh light on life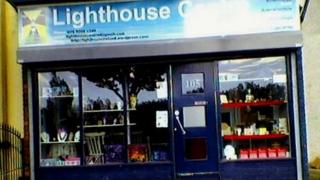 You've heard of food banks, but now time banks are springing up all over Northern Ireland.
Organised by Volunteer Now, people give their skills and time and get other services in exchange. For example, you might donate an hour's gardening, and be able to get a free haircut.
The Lighthouse Healing Centre on the Cavehill Road in north Belfast has a very successful time bank.
Siobhan Bogues from the centre said: "Through Volunteer Now, we've been equipped with a software programme, which means that very easily, through the click of a button, record what people are offering and do matches.
"So if you come in today, and you'd like some reflexology, we can find out who's offering that, and when, and then we can quickly match you up with the person who has the skills and time-slot that suit you. The computer makes it very stream-lined."
The time bank is organised online, and for every hour you give, you can get an hour of someone else's time. Only the centre's co-ordinator needs to be computer-literate.
Time banker Richard Martin said: "I'm a life coach, and I offer life coaching services to the time bank. That involves people coming to me when they have a challenge on their hands, and I would offer an alternative way of looking at that challenge, so they might feel a little more empowered.
"Or maybe they have a challenge that has crept up from the past, and they need to find a bit of forgiveness or healing, so they can move on with their life. People have come to me with stumbling blocks in their lives.
"If I work with someone for an hour, I get that hour back, and I can use that to get a workshop I'm interested in, or some reflexology. A time bank is an incredible idea."
Time bank co-ordinator Nicky Morton finds it useful and rewarding: "If someone washes my windows for an hour, I could take their dog for an hour. A time bank for us is vital for offering a sense of community. Also we offer services that are quite expensive, that people couldn't necessarily afford.
"From my own point of view, I'm a single mother, and to get a reflexology treatment will cost me £40 or £50, and I don't have that money to give for reflexology, but I'm getting a treatment from a lady this evening, and in return, I've crocheted a blanket for her."
So how much time do you need to give to the bank?
Members normally give an hour a week, or an hour a fortnight, depending on when they are available. Unlike other voluntary services, you are not committed to one particular time, on a certain day.
Nicky said: "We would get a request, for example, that somebody needs a shelf put up. I would send an email to the time-bankers who've advised that they could provide that service and, if so, then we'd work out a suitable time for everyone."
People of all ages are involved. The youngest time banker in the Lighthouse is a nine-year-old boy who mops the floor once a week.
"Our philosophy is that everyone has something to offer. For example, we have one lady who offers children colouring-in lessons, and some of our members do avail of that," she said.
Time banks are springing up across Northern Ireland and Siobhan Bogues understands why.
"They extend a sense of community. Without employing extra staff, people who couldn't afford it can access all sorts of healing treatments and workshops, as well as gardening and joinery," she said.
"One woman says the Lighthouse is a place where women who have been battered by the storms of life come to an oasis, so some of the women in the time bank have come from a place of pain. And they've wanted to give something back."
Siobhan said that setting up a time bank is very simple and it almost runs itself. "People get to know each other, outside the time bank. We are growing a community here. "
She said anyone could get involved.
"We've found it easy to get people to offer to help. What's more difficult is to get people who've put hours in to take time back. We need to make sure it's a two-way exchange," she added.
"Every single person has a light; everyone has a gift to share, but a lot of people hide that really cleverly, because life covers that up. If you're committed to helping people and bringing out the best in a community, join a time bank."
Find out more online about social media and raise awareness for your charity.