Arrest galvanised Sinn Féin election campaign says Adams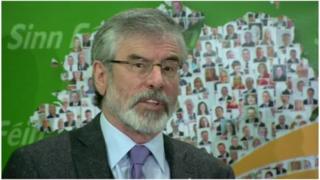 Sinn Féin president Gerry Adams believes his arrest by detectives investigating the murder of Jean McConville has galvanised his party's election campaign.
Mr Adams was released without charge after four days of questioning at Antrim Police station.
It had not been beneficial for him, his family or his party, he said.
However, his arrest had "galvanised the Sinn Féin party and the broader republican family," he added.
Mr Adams was speaking at the launch of his party's European manifesto in Belfast on Monday, He said it was too early to be certain about his arrest's impact, but noted its affect on Sinn Féin.
"Now they are very focused, there is an alertness that the process here cannot be taken for granted and people are looking to the work that Martin McGuinness and our other representatives have done around raising peace process issues," he said.
Sinn Féin is hopeful that it can get four MEPs elected throughout Ireland and it brought its Dublin candidate, Lynn Boylan, to Belfast to sit alongside its Northern Ireland candidate, Martina Anderson.
The Sinn Féin manifesto describes the party as "Euro critical". It accuses Brussels of a "power grab" and argues more powers should be returned from the European Commission to the member states. But it also says that Ireland's place is in the European Union.
The manifesto says Sinn Féin MEPs will promote Irish unity and seek to secure EU support for a border poll. It talks of providing for the possibility of Northern Ireland "opting in" to European legislation from which the rest of the UK has opted out.
The party wants a £17bn Youth Guarantee Fund to tackle youth unemployment across the EU. The manifesto says Sinn Féin will campaign for an end to zero hours contracts at home and across the EU
Gerry Adams said he hoped even some unionists might give Martina Anderson a lower preference vote. But when asked if he has any advice for Sinn Féin voters on who they should give their transfer to, he said no.
Despite some publicity focussing on the potential consequences of a fragmented unionist vote, Sinn Féin's Martina Anderson does not believe there are two nationalist seats to be won north of the border. If there were, Martina Anderson told the BBC, Sinn Féin would have definitely run a second candidate.